Overview of FormTrap with Insurance Companies
FormTrap was first installed at the Insurance Company of the West Indies (Jamaica) in 2001 with Version 6.

We've been on a mission to spread the product to others in this segment using new features embedded in Version 8 and which are specifically aimed at wealth creation industries. These are relatively recent customers:
MPI Generali (Malaysia, a subsidiary of Generali - Italy)
Manulife (Malaysia, a subsidiary of John Hancock - Canada)
The FormTrap message of outstanding function, low cost, simple implementation, zero change to application systems and ultra-robust performance to companies requiring a world class solution that runs on current standard operating system, with two decades of in-built experience.

Manulife started production in January 2016 for correspondence, then quickly found an additional 30 letters to compliment the 50 or so they had designed.  The system runs with zero issues and Manulife is self-sufficient. 

Insurance Company of the West Indies (Jamaica) has completed HTML Emails to replace snail mail, and with links to their web site for information, to online renewal facilities and to online selling facilities - a saving of over $2m Jamaican dollars per year - how's that for a REAL BOTTOM LINE SAVING.

Insurance and financial institutions require long documents and the full range of word-processing type features, bound into a production system capable of being driven from reliable but text-only IBM systems (including native IBM output with control values prepended to lines) and Linux systems.

The ability of FormTrap to handle anything means we're assured of producing a modern, informative, crisp and modern document with all of the features of the best of word-processing systems; in bulk, automated, fast and with ultra-reliable software. We can auto-archive outputs under indices you choose, will email PDFs as part of HTML Emails just as efficiently as we can print and can do all of the above on Windows Server systems using FormTrap Server software - full 64-bit software - with fail-safe logging and recovery - on 2012 or 2016 Windows Servers, R2 editions, in a VM if required. In decades, FormTrap has not lost a single transaction.  Features like automatically aborting documents where a lookup entry (clause interpretion from a short phrase or code)

Please look at the PowerPoint presentation on Insurance Contracts (press HERE to download) while leaving this open. This shows features of a standard FormTrap document produced from AS/400 output.

FormTrap, like insurance companies, operates globally in many languages and countries. Even in just one country (for example, Malaysia), there is a need for different languages and conventions. FormTrap supports this, fully. As a system, FormTrap has sites in China, Korea, Japan and Thailand as well as other languages and countries - and has had for a decade and more, in fact we believe we can support just about any language.

... and the payoff - in Malaysia just the one field which indicates language preference is sufficient to TRANSLATE to the most common language of Bahasa from English-Only output - that's HUGE, ask Marketing for what that would do for YOUR business.

The remainder of this document shows samples with their input for various demonstration and production documents and we will add to this list as more forms and organizations are brought into the FormTrap fold.
Document Samples and their Inputs
The samples are in or close to production. We can provide references for committed, serious prospects only. We sell by resolving your issues. ALL of our systems over decades work reliably for YEARS.
Insurance Policy for MPI Generali as an illustration document from their existing AS/400 output, if you did not view this above, please do so now to see just how well we can modernize outputs that are decades old with little effort and with a whole lot more marketing power. This is a "demonstration" document to a new customer, using their data and can be implemented with just a little more work on the additional standard clauses required and some decisions on preferred appearance from the customer.
Motor Vehicle Renewal is implemented at ICWI as an HTML Email directing renewals to web rather than phone or mail processing.   ICWI (Jamaica) have been customers since 2001 and trained in version 8 during the third quarter of 2015 via WebEx. Press HERE to see a presentation on their HTML Motor Vehicle Renewal email and document.
HTML Emails allow outstanding communication with customers at close to zero cost, in close to real time. This short and to-the-topic PowerPoint shows "Before and After" based on input from Manulife, the differences can be seen by pressing HERE.

Over the Counter Policy where the concept is to print in branch, while the customer is there. What we were sent is below standard.


Note: If document fonts look weird, that likely means you are using Chrome viewer which doesn't recognize PDF fonts.

Select the Adobe icon
Select the top item from the list Adobe
Add the second item, PDF Viewer which will show PDFs as intended.



Policy Document showing what we changed (red) and used (highlighted), and
Policy Output from FormTrap.

Debit Document showing what we changed (red) and used (highlighted), and
Debit Output from FormTrap.

This is huge potential improvement in customer service, from existing output for comparatively little money.

Health Insurance form was developed as one of a set of models to explore what could be done with the then new version of FormTrap. One of the design parameters was to operate in Wealth Creation industries and this and others were prepared from data supplied by our Malay reseller.
The form is sourced from old IBM formats, with output running from just one page up to five pages for the full document. This document is the core of a document set where all other documents are constant, hence well formed using Word. This document was badly formed and looks old, tired, dated and obsolete. The FormTrap equivalent looks modern and can easily include items like Web Site references. FormTrap's facilities to drop in the other standard documents, in sequence produces the finished document set. Like all of these documents, all references have been changed or supplied not to identify individuals or to make data public. These documents may be viewed:

Health Insurance minimum document input and
Health Insurance minimum document output.

Health Insurance maximum document input and
Health Insurance maximum document output.

This was done in 2013, prior to subsequent change which allows insertion of saved clauses from the FormTrap Lookup Table, and page breaks across page boundaries. The finished document is very much easier to design with the now current version.
Motor Vehicle Insurance is another sample derived from a Malay prospect. This document's input is XML, meaning we do not know what the missing elements are as XML omits fields when empty or not required. We took what was available and so far it looks great. To finish this job requires a "session" with IT, a complete file and a couple of hours to finish the design. We would suggest doing this as two forms, one in each language as the layout is simpler and the clarity of the document very much improved. To do this we would need "Language" as a data field within the XML file, and would add language to the document recognition tests. Testing at the prospect included stapling using FormTrap's ability to modify the commands surrounding the print language output (printing is done entirely independantly from Windows controls and can be done in a Linux environment where performance is an absolute priority, to the point print runs need to be done separate from logging and recovery).

Motor Vehicle Renewal input XML file
Motor Vehicle Renewal Output
While these forms are specific to insurance, we can produce very sophisticated and great looking outputs for such items as direct mail, either XML or text-based, can deliver by Email or Fax or Print and can prioritize delivery, and can archive the resulting PDFs.

Add the fact that FormTrap Server is a fully recoverable 64-bit server system, running in a VM in a secure Windows 2016 Server, and you start to see why FormTrap has delivered for 20 years now, without problems, ever.
OK, I'm interested ...
... and your next question is "will it work with my data".

Yes it will. We've yet to be stumped by any form of data, as the above illustrate.

Let us prove it works by you sending in a data file you'd like presented, returned as a FormTrap PDF. You'll need to talk to us first, and will need to agree what constitutes "success" and the inferences "success" has to our business, as well as yours. It costs money to produce forms of the complexity of insurance contracts so we'll need an agreement that when (not if) we deliver, you'll install the free trial and pay for the first form.

Assuming that is done, we'll return a PDF produced from your data, or organize a live demo from our server here. We run sites with very large numbers of printers, run Xerox iGen printers if required and have the fall-back of running the EXACT SAME forms in Linux. We'll allow you to verify, in production, at your site, using trial software, good for one month, provided you'll cover direct costs of form development.

... and your cost to trial??

Typically under USD $2,000 which carries forward as forms that you can use in production, with "snippets" you can insert into future forms and as samples for your future work.
Tell me about the trial software ...
Let me start by saying the trial software is good for 30 days, after which you'll need to make a decision to purchase outright, to rent (not a bad way to test us out and you can apply half of the first six month's rental to purchase) or you can pay per document formatted - the choice is yours.

Software is available from our web site, you'll need to tell us first that you want to trial, then we'll license your organization and send over the PowerPoint showing you how. It'll take less than a half day to set up, and you'll be good to go unchanged if you decide you want FormTrap there permanently.

We're rugged, reliable, virtually never break and all of your problems will be something you've inadvertently done to yourselves - like installing a new version of Microsoft, installing an anti-virus protection system without white listing FormTrap and similar.

Our service is legendary and being off US time zone helps - it means you have the answer on your desk next morning. We get at most 4 to 5 emails for assistance per day from over 600 clients, most of those are "how do I do this" rather than reports of any difficulty. Ask if you're in any doubt - we have sites that'll be happy to talk to you and have sites for upward of two decades and all you will hear is praise for our customer support.

Your next step is to determine how many printers you'd like to use in Production, those must be laser printers or printers capable of directly printing PDF files.

This sets you up for the long term, and you can set up as you intend to continue.

Downloads are two files, manuals are online, context sensitive, include PowerPoints and change regularly as we run across customers who did not understand or where we develop new features.  The two files are:
Development system named FTForm Plus which is installed normally on a development (programmer's) computer from Vista operating system forward. You'd use this initially to set up your demographics in the Lookup Table (by location where you have more than one invoicing entity or want branch included in documents) and to install your corporate colors.
Production Enterprise System is our commonly installed full Server system and runs (normally) on a Windows 2016 Server but will run back to Windows Server 2008 or back to Vista. Most FormTrap Enterprise systems run in a VM within that Windows Server. Server systems have all of the advantages of running in a secure operating system, with automatic restart and the full range of protections this environment provides.

Most FormTrap systems set up this way, run for months at a time, hands-off, never touched.
The steps to implementation are simple, your organization can be in print production in less than three hours and fully in production (emailing and faxing clients) after assembling the email and fax addresses for your clients. You can do this "en mass" from your DB with a couple of hours additional work.
Document generation By Hand
FormTrap has traditionally operated with computer files, however in 2014 we decided to add hand-entered documents to the FormTrap Suite. This is ideal for insurance. For example, many of the 50 plus forms generated by Manulife to cover correspondence have very little data and are ideal for this type of processing. Manulife are NOT doing this but could, the module is designed to run on remote computers at a very low individual cost and will operate remotely and independent of the web or network. Output can be directed back to the FormTrap Server or produced locally as PDF documents, with Adobe PDF Reader used to email or print them. Press HERE to view a PowerPoint on QDE module.
This hugely assists two areas for Insurance by reducing keystrokes to just a few for complex emails, as well as delivering a consistent and centrally authorized message:


Marketing, where your sales people send emails that look intensively considered and constructed - in just seconds, press HERE to view a PowerPoint on Email-Express QDE forms.  The final just-prior-to-send is shown as an outlook draft, allowing that personal touch where required.

Letter-writing via Email where a set of standard one-click selections fill the body text with pre-approved company audited details.   Press HERE for our ROI calculation.
Other things you can do with FormTrap
One requirement other customers have mentioned to us is use of the Additional Documents. Let me paint the picture. Where a customer purchases a particular product you can bet that Sales will want the customer to know about other relevant products. FormTrap can do this automatically, as a by-product of invoicing or other financial or promotional activity.

Marketing produce a PDF using Word or their favorite presentation product, or if the presentation is emailed, as ANY form of emailed document, including PowerPoints or video presentations. If the customer document is printed and snail-mailed, then Marketing is limited to producing a .prt file, to a printer driver normally used for FormTrap forms, in color if required. It need to do NOTHING except load the file to the Production FormTrap Server, named with the product name. If that promotion exists, it will add automatically append the files on the to the same output as the invoice. This effectively turns regular production into automated marketing. Better still, it handles as many different promotions as are running, with multiple additional documents produced if multiple products with promotions are on that invoice.

Don't want to do this with Invoices?? Output a list of relevant customers, and have FormTrap send them emails, with PDF, PowerPoint or any other marketing materials, as full HTML Emails.
FormTrap produces automated word processing documents. What do I mean by that?? Well, we have features you normally only expect in Word. These are a few:
Indentation with hanging indents - press here to see the Terms and Conditions page of an Invoice as an example (with the full story on Pharmacare's conversion of JDE XML invoice data here).
Justified text, again see the Terms and Conditions page.
Data embedded into the output - and you guessed it, third last paragraph, where the Client Name is embedded and the paragraph word-wrapped to fit any-sized company name for when you next change your name.
Any combination of fonts, sizes, colors, styles, highlight colors in one text object, this has bold and bold italic and a couple of different sizes only.
Long paragraph that automatically split across page boundaries, ideal for the long and complex paragraphs that insurance is famous for.
... plus things even Word won't give you such as ...
The full International Conventions for Unicode (ICU) project as implemented by Apple, Google and IBM for international representation of quantities, amounts, percentages and dates allowing full international representation and translation from one language to another.
Full arithmetic library - capable of totaling, esoteric calculations, running totals, etc. It's called muParser and you can read about it in the FTForm8 manual here Arithmetic.
Logic capability for both input data interpretation and for output formatting using Regular Expression (RegEx) library, read about it FTForm8 manual here RegEx.
Alignment within an object to the right of a special character, this is defined as the one object aligned at the colon:
            
... with (as shown) the ability to align to other similar objects.
FormTrap Automated word processing includes direct mail, contracts, letters about bad debts and other credit control operations, right down to letters to customers. As shown above we can organize the multiplicity of clauses, can insert conditions as additional pages and can format virtually anything.

We can graph your reports and even deliver them as PDFs by email to recipients. Following is an example of what we can do - easily - with FormTrap. Convert this ...




... to this, with calculated percentages, with calculated Net and then can automatically deliver to recipients via eMailed PDF, one recipient per branch: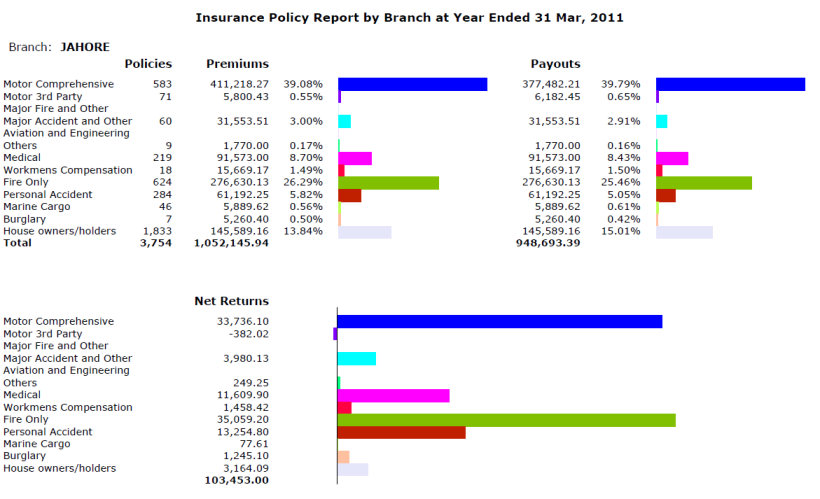 Archive option
Version 8 includes an optional fully integrated Archive (FormTrap Archive) module that automatically stores the FormTrap output as PDFs. This is available for all Version 8 form outputs which are stored as PDFs and indexed under a minimum of Document and Date as well as any other indicated document reference such as customer name, invoice number etc. Archive allows for periodic roll-off at user-nominated intervals to other media (such as CD), with the ability to look at the archive from anywhere in the organization.

Without this option, you still have the option to save PDFs within a structure you nominate, named with the the identifying document number and with the superceeding folder names also from data, for example:
D:\FTOutput\2017-18\Policy Renewals\2018-01\Policy AF122341, 2018-01-23.pdf where all except the high level folder are from data.
Additional Options
There are a range of PowerPoints in this folder:  www.FormTrap.com/promotions/powerpoints/ which you can browse at your leisure.


FormTrap prints BARCODES including PDF 417 and QR 2-D bar codes, at no additional cost (i.e. free) which you can utilize to run your enveloping equipment (PDF-417) to place huge amounts of data in readable format on a document or (QR) to provide customers with web references via their mobile devices.

FormTrap runs right up to Fuji Xerox iGen printers for huge volumes.