Overview of FormTrap and Solutions (formerly NDS)
Our first customer was the now defunct Tractor Equipment Sales. As a parting gesture, Dan Martin of that company recommended us to Cate Equipment who installed back around 5 years ago.

That has produced a remarkable successful outcome, to the point we've applied Cate's data to new forms which not only highlight what FormTrap is capable of, but also to implement that in a way that ANYONE can take advantage of and apply themselves in less than one day. This is essentially what this is about, an offer to upgrade your forms, allow you to email them in full color, allow you to do that immediately and allow you to then consider all of the other things you might want to do with FormTrap.

The ONE BIG THING is once you have FormTrap installed, it is available for whatever system you might want to use in future with forms carried forward easily to any other software vendor and any other systems or applications you may have (payroll, CRM and contracts to mention just a few).

The section that follows shows outputs you can review as your first step.
Documents Available
We've done invoices, after all, getting paid is the most significant event any business has. To get paid, your customer needs the bill in his hands as soon as possible; with delivery of the goods at latest, ideally a few seconds after the goods leave your premises or after your service man has completed his service notes. This means eMail as the fastest way (and incidently cheapest way) possible.

View the 6 pages of sample invoice output, by pressing View Invoices PDF and printing (or press "back" and jump between tabs). To see the input formatted for pre-print paper, press Solutions Output / FormTrap Input.

FormTrap delivers by Email (as well as fax and print) and if you happen to be using the hand-held invoicing tool, yes we can almost certainly deliver from that input as well, in just seconds after the data comes in.

The second imperative is your customer should understand what you sent him. If he doesn't, then that's a reason to delay payment while you prove you have delivered and it may takes days or even weeks before you see the cash.

FormTrap delivers documents with huge range of options for you to present bills of clarity that are unambiguous and informative.
We've provided three different "forms" to segregate the outputs so you can present them to best advantage:




Parts format covers the first three pages, these are in "close to Cate" format as Cate have been using for some years to cover ALL of their invoices. This is the "default" format for invoices and is quite close to the original, but with much better presentation.  Note on the first invoice with only one part, we ignore the Total Parts line, while on the second invoice we remove this confusing figure from the value column and instead show this in the parts description column.



Rental Billing is Page 4 and we've started to get creative, eliminating the "block" that starts Salesperson and consolidating data into a list. We designed this for a company who's "corporate colors" are red, however as you'll see, this is readily adapted.

Service invoices are very different from Cate format in that we've re word wrapped the service details, shown these "above" the invoice proper and (with just a little help from you) can introduce concepts of paragraphs and indentation as well.

This is dark green and illustrates how we can modify color instantly. OK you say, we only print black and white, but consider this as your Emailed Invoice PDF, with all of the advantages that represents. eMailing is drop dead simple.
For more details on other advantages we provide to your Invoices, please print the PDF, then press Output Features and print that too. You can transfer this RIGHT NOW, in YOUR corporate colors into your site.

Give BOTH documents to your marketing people and ask them what it's worth, especially the Page 4 point which describes their "free shot" at all customers you invoice, every time you invoice. Ask them what it would cost in advertising for the same facilities, therefore how much they'll contribute to this facility.

Take another look at your output and FormTrap output, if this looks good see Probable Enhancements.
OK, I'm interested ...
... and your next question is "will it work with my data".

Yes it will and we've tested that at another Solutions site, however you may just have wrinkles in your data we've not seen before.

Let us prove it works by returning your data to you using these forms. If you require an NDA signed first, send that along with your data file(s).

We'll return a single-file PDF using the forms you've just looked at. Once you're convinced by looking at your data formatted our way, you can go to the next step and trial in house, using trial software, good for one month.

That'll flush out any differences as our objective is to present IDENTICAL, WORKING forms for NDS clients, from there you can vary the output, add new functions, include other systems and data to your heart's content.

... and your cost to trial??

Nothing, Nada, nyett.
Tell me about the trial software ...
Let me start by saying the trial software is good for 30 days, after which you'll need to make a decision to purchase outright, to rent (not a bad way to test us out and you can apply half of the first six month's rental to purchase) or you can pay per document formatted - the choice is yours.

Software is available from our web site, you'll need to tell us first that you want to trial, then we'll license your organisation and send over the PowerPoint showing you how. It'll take less than a half day to set up, and you'll be good to go unchanged if you decide you want FormTrap there permanently.

We're rugged, reliable, virtually never break and all of your problems will be something you've inadvertently done to yourselves - like installing a new version of Microsoft, installing an anti-virus protection system without white listing FormTrap and similar.

Our service is legendary and being off your time zone helps - it means you have the answer on your desk next morning after we've had all day to respond. We get at most 4 to 5 emails for assistance per day from 500 clients, most of those are "how do I do this" rather than reports of any difficulty. Ask if you're in any doubt - we have sites in the USA and have had for upward of two decades and all you will hear is praise for our customer support.

Your next step is to determine how many printers you'd like to use in Production, those must be laser printers or you'll need an "extra" which is not available for trials ("Write to any printer" option ...).

This sets you up for the long term, and you can set up as you intend to continue.

Downloads are two files, both manuals are online and context sensitive. The two files are:
Development system named FTForm Plus which is installed normally on a development (programmer's) computer from Vista operating system forward. You'd use this initially to set up your demographics in the Lookup Table (by location where you have more than one invoicing entity) and to change corporate colors.
Production Systems of which there are two:

Small Business System which runs as a normal application, meaning the user has to be logged in and the system is interrupted and requires restarting whenever that machine is re-booted. This runs under Vista and later operating systems.

This system is designed for smaller sites where no Windows Servers are available to run FormTrap, and the level of IT Support is minimal. In this case we'd recommend leaving FormTrap to do your forms designs, saving you the cost of that program. Our charges are $250 per hour, the average form takes three hours from scratch with nothing to work from. Where you have already approved the basic outline of another document (such as the Invoice), we can drop this to under 2 hours.
Enterprise System is our commonly installed full Server system and runs (normally) on a Windows 2008 Server but will run back to Windows Server 2003 or back to Vista. Most FormTrap Enterprise systems run in a VM within that Windows Server. Server systems have all of the advantages of running in a secure operating system, with automatic restart and the full range of protections this environment provides.
Most FormTrap systems set up this way, run for months at a time, hands-off, never touched.
The steps to implementation are simple, your organization can be in print production in less than three hours and fully in production (emailing and faxing clients) after assembling the email and fax addresses for your clients. You can do this "en mass" from your NDS DB in a couple of hours additional.
Other things you can do with FormTrap
FormTrap outputs any type of document.

Automated word processing such as direct mail, contracts, letter about bad debts and other credit control operations, right down to letters to customers. We have formed insurance contracts for health care with the multiplicity of clauses that represents, can insert terms and conditions as additional pages with your purchase orders and can format virtually anything.

This is an example of a page you might want delivered with Invoices where it can be numbered with the Invoice and include data from the invoice. Note that this has four levels of indentation as well as inserted data, both in the headers and in the body text (wiped out for privacy reasons):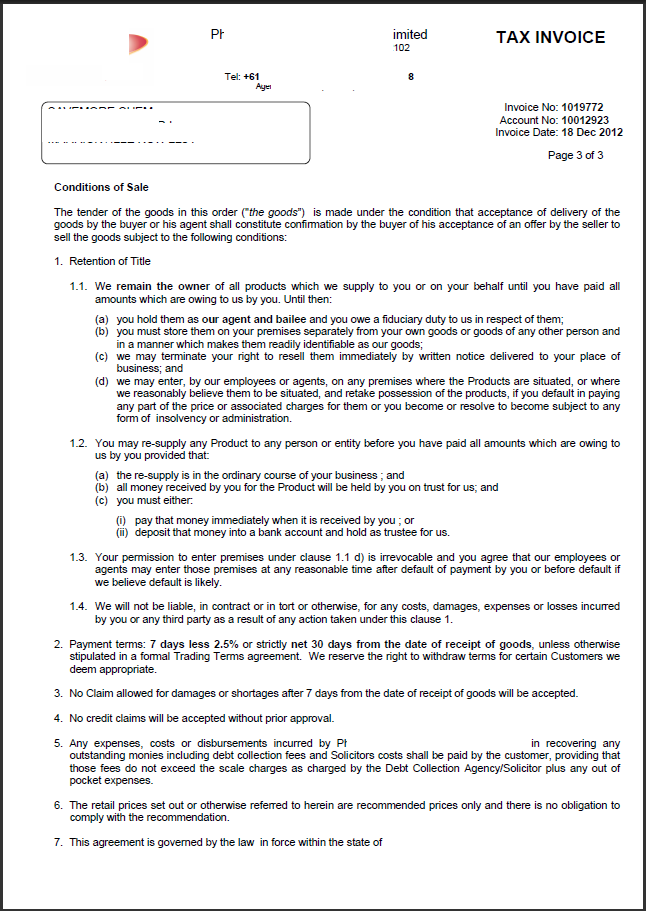 We can graph your reports and even deliver them as PDFs by email to recipients. Following is an example of what we can do - easily - with FormTrap. Convert this ...




... to this, with calculated percentages, with calculated Net and then can automatically deliver to recipients via eMailed PDF, one recipient per branch: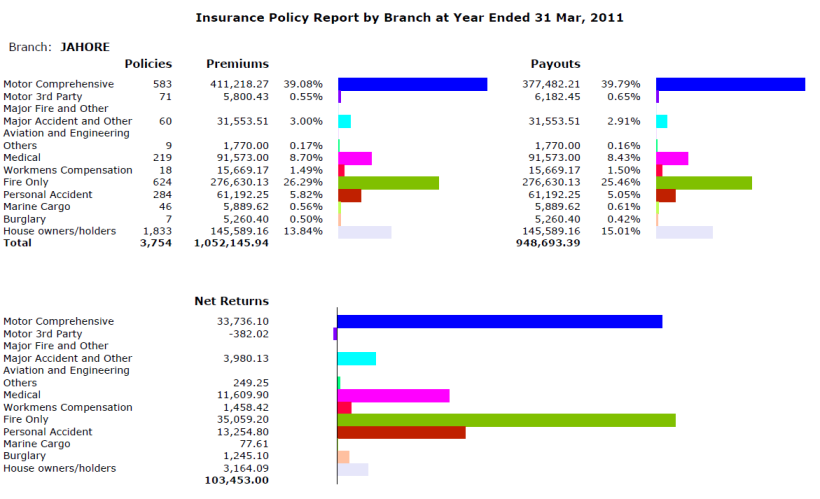 Archive option
Version 8 includes an optional fully integrated Archive (FormTrap Archive) module that automatically stores the FormTrap output as PDFs. This is available for all Version 8 form outputs which are stored as PDFs and indexed under a minimum of Document and Date as well as any other indicated document reference such as customer name, invoice number etc. Archive allows for periodic roll-off at user-nominated intervals to other media (such as CD), with the ability to look at the archive from anywhere in the organization.